ALL PRODUCTS OFFERED HERE ARE MADE IN THE USA !

We can also build you a complete custom upper in 6.5mm PCC
at very reasonable prices for a flat fee, which Includes shipping
to your door in the lower 48 states. We can also build you a com-
plete upper in other popular AR-15 calibers as well.
*********

All of our 6.5mm PCC barrels and complete AR-15 uppers are headspace checked,
throated for VLD type projectiles, functioned tested w/ dummy rounds, the cham-
bers are finely polished, the M4 barrel extensions feedramps are lightly profiled
and finely polished for enhanced, smooth, and reliable feeding. The gasports are
checked for correct diameter and lightly chamfered.





6.5mm Patriot Combat Cartridge Dies, (6.5mm PCC).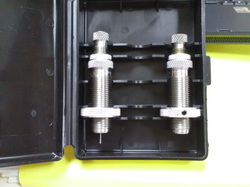 New Two Die Set for your 6.5mm PCC Caliber AR-15 Barrel.
Customers are reporting great overall Accuracy with the Match
Grade Stainless Steel Polygonal Three Grove 6.5 PCC Barrels.
Velocities reported to us are Excellent, In some cases surpassing
6.5 Grendel (R) published data with certain loads w/o signs of
overpressure. Projectile weight range from 85 grs. to 144 grs.(max.)
and recommended weight ranges from 85 grs. to 125 grs. Each Die
Set is Inspected and Polished before it leaves the shop.

Cost: $89.99 Includes Shipping to Lower 48 States


---
6.5mm P.C.C. AR-15 Match Quality S.S. Barrel w/ Polygonal P3 Rifled Bore.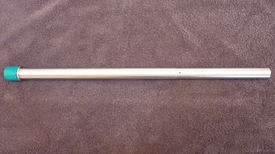 The Ultimate in a 6.5mm Caliber AR-15 Barrel (.223 Based) Wildcat Cartridge,
the 6.5 PCC was strictly designed for the AR-15 Rifle Platform and has delighted
many of our customers with great accuracy and surprising levels of power from
it's .223 Remington based cartridge case. Some customers have reported Energy
Levels in excess of 1,800 ft./lbs. and Velocities well over 3,000 fps. using 85 gr.
to 95 gr. projectiles. w/ 18" to 22" barrel lengths and maximum magazine COL's.

See price below...


6.5mm PCC Factory Crimp Dies are Availble on a Custom order Basis @ $38.95 (Includes Delivery).

We occasionally stock a few barrels at the shop, but otherwise we custom order your barrel to your specs.

Turnaround time for barrel orders is (from order to delivery) between 9 to 14 weeks depending
the barrel manufactures time lines and availability of barrel blanks etc.

Available types of barrel lengths are: 16.1", 18", 20", 22" and 24" .
Gas System Lengths are: Carbine, Mid-Length, or Rifle Length.
Twist Rate is a: 1:8 Twist Rate, for handling Long/Heavy VLD Projectiles.
Standard Finish: is a Machine Finish (semi matte), as pictured (No Extra Charge),
with a Black Matte Finish being a extra $20.00. Muzzle crowns are either: Target style
or can be Threaded 5/8"-24 TPI (No Extra Charge) !

Barrel extentions are M4 type for excellent
feeding and are standard with our barrels.

Our Barrels are Custom Throated to the Customers Specs. (or can be throated long [2.295" COL] for use with VLD rounds) and are Inspected prior to delivery...as well as the chamber being finely polished and feedramps lightly ground and finely polished for
the utmost in smoothness and reliability !

NOBODY TAKES THE TIME AND EFFORT TO DO THIS FOR THEIR CUSTOMERS...ALL FOR FREE !


** Cost: $299.99 ($329.99 After 9/1/12) Includes Delivery to lower 48 States,
Insurance is a extra $10 & highly recommended (we will not be held responsible
for lost packages).

** Please note that there will be (unfortunately) a price Increase, starting
Sept. 1, 2012. This is due to Increased material, labor, and shipping costs to
us. The new price will be $329.99 for a new 6.5mm PCC match barrel and
Includes delivery & tracking of your package. Even with the new price Increase,
we are still your lowest priced source for a match quality 6.5mm PCC barrel, and
we still provide you will the best service and many free extras you don't get any-
where else.


This is the lowest price to be found anywhere on a match 6.5mm PCC Barrel !

Please Indicate: Barrel Length, Standard (no extra charge) or Black Finish (extra $20),
Target Crown or Threaded Muzzle (no extra charge). A Standard Contour/Profile is usually
a medium weight style (.750 @ the gas block), a Bull/Heavy Contour is available at no extra cost.



---
Please email us your
questions
at :
info@illirianengineeringc.ipage.com
For orders
email us at :
orders@illirianengineeringc.ipage.com
Our
Default Email Address
is:
IllirianEngineering@yahoo.com
Our PayPal email account is: illirianengineering@yahoo.com

Info/Contact Number: 603-852-3691
We also accept PayPal (www.paypal.com) for all credit card, debit card, and electroniccheck payments for fastest service (It's safe and secure with 128 Bit SSL encription). Ourpaypal email account is : illirianengineering@yahoo.com (If using paypalplease add 4.8% to your order total unless otherwise noted).Thank You for your support of Illirian Engineering & Design.