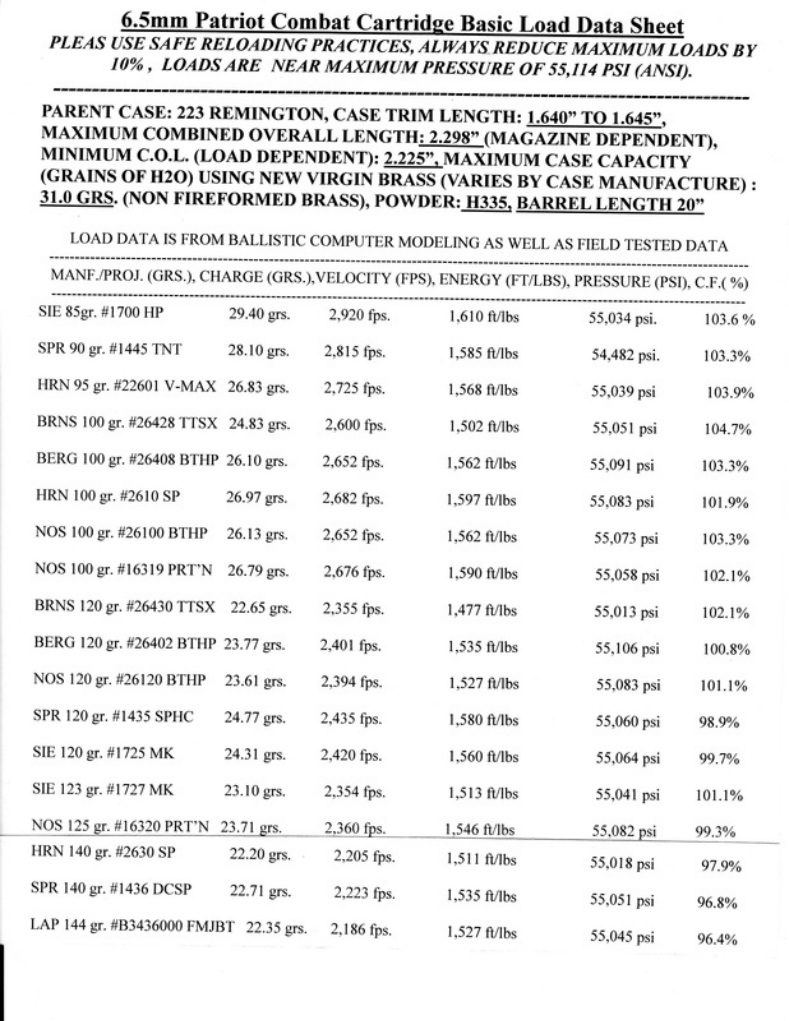 Fireformed cases have a approximate case capacity range of 32.10 grs. to 33.45 grs, of water
depending on case manufacturer and chamber dimensions etc.

Please use extra caution when reloading, start low and work your way up until you have reached your desired accuracy or velocity goal or/if high pressure signs have started to develope,then back-off your charge by at least half a grain. Use this data at your own risk. The load data above is to be used as a basic guide, and are only to be used by experienced/knowledgable reloaders or those who are under the supervision of one.

We also offer free load developement support to our customers, just email us with your avail-
able projectiles and powders you have on hand and we will help you with your load developement
needs. We have three ballistic modeling computer programs to help you with new load develope-
ment. Of course it is to be used (the load data) with extra caution and at the users own risk.


Update 6/8/2012 : (FF) 6.5mm PCC End User Field Results with 18" AR-15 Bbl.,Thank You Nick !
These are considered Maximum Loads so Please Use Caution and Proper Reloading Techniques.

85 gr. Sierra TNT HP--------H335 Powder(30.6 grs.)-------Velocity: 3,054 fps.----Energy: 1,761 ft/lbs.
95 gr. Hornady V-Max.------H322 Powder(25.8 grs.)------Velocity: 2,687 fps.----Energy: 1,524 ft/lbs.
100 gr. Hornady SSP--------H335 Powder(28.4 grs.)-------Velocity: 2,708 fps.----Energy: 1,629 ft/lbs.
100 gr. Hornady A-Max.----H322 Powder(25.5 grs.)-------Velocity: 2,617 fps.----Energy: 1,522 ft/lbs.
100 gr. Nosler Partition----H322 Powder(25.1 grs.)-------Velocity: 2,607 fps.----Energy: 1,510 ft/lbs.
100 gr. Nosler B/T-----------H322 Powder(25.7 grs.)-------Velocity: 2,623 fps.----Energy: 1,529 ft/lbs.
100 gr. Berger HPBT--------H322 Powder(25.1 grs.)-------Velocity: 2,608 fps----Energy: 1,511 ft/lbs.
120 gr. Speer HotCor SP---H335 Powder(25.5 grs.)------Velocity: 2,441/2,386--Energy: 1,589 ft/lbs

120 gr. Prvi Partizan--------H322 Powder(23.7 grs.)-------Velocity: 2,385 fps-----Energy: 1,517 ft/lbs.
*****FMJBT*** This is the same load used in the Wolff Gold 6.5 Grendel(R) Match Ammo.

120 gr. Hornady A-Max----H322 Powder(22.9 grs.)--------Velocity: 2,360 fps.---Energy: 1,485 ft/lbs.
144 gr. Lapua FMJBT-------H322 Powder(21.1 grs.)--------Velocity: 2,131 fps.----Energy: 1,453 ft/lbs.


Nick used the following specs: COL @ 2.285", Case Trim Length: 1.645", Case H20 Capacity: 32 grs.
PRI .223/5.56 Magazines, Winchester/IMI 223 brass & LC-10 223 Brass, SR Magnum Primers.
--------------------------------------------------------------------------------------------------------------------------------------

Note on Small Rifle Magnum Primers: Please Use Extra Caution when using SRM Primers, Higher
Pressures May Result, Especially with "Stick" or Extruded Powders, Always reduce your start
loads and Double Check your Powder Drop Weights, Fast Burn Powders like H4198, RE-7 Etc.
are more sensative to Magnum Primers that can cause Increased pressures possibly causing
Injury to yourself or Others and/or Damage to the Rifle Etc.

How does the 6.5mm PCC round compare to the 6.5mm Grendel ?
Many have asked how does the 6.5mm PCC round compare to the 6.5 Grendel(R) round...Well, It Is not a apples to apples
comparison since the Grendel round uses a non .223 Remigton case, the Grendel case is much closer to the 7.62x39mm
case in terms of H2O case capacity (34 to 36 grains of H2O capacity) & case dimensions...While the .223 Rem. based
6.5mm PCC round has a non fireformed H2O case capacity of about 30 grains of H2O and a fireformed case capacity
of 32/33 grains of water depending on case manufacture. Also, the Grendel round requires a dedicated bolt and
magazine, while the 6.5 PCC does not, It uses the same bolt and magazines as the .223/5.56mm AR-15.


Below is a recent powder manufactures load sheet for the 6.5 Grendel(R) with a 20" barrel vs. the actual field
results with a 18" barrel 6.5 PCC round listed above by Nick a 6.5 PCC end user...

Notes: barrel: 20", twist 1-10"; primer: WIN WSR; bullet dia.: .264"; case length min: 1.495",
max: 1.515"; max COL: 2.260" Max. PSI 52,000

Bullet Wt., Powder Manufacturer, Powder Charge, Velocity (FPS).

85 Sierra HP Ramshot X-Terminator 28.9 2,702 Remarks: start load; COL (inch): 2.150

85 Sierra HP Ramshot X-Terminator 32.1 2,980 Remarks: max load; COL (inch): 2.150; 52,000 psi

95 Hornady V-Max Ramshot X-Terminator 27.5 2,588 Remarks: start load; COL (inch): 2.190

95 Hornady V-Max Ramshot X-Terminator 30.8 2,831 Remarks: max load; COL (inch): 2.190; 51,980 psi

100 Nosler B-Tip Ramshot X-Terminator 26.7 2,464 Remarks: start load; COL (inch): 2.230

100 Nosler B-Tip Ramshot X-Terminator 29.7 2,708 Remarks: max load; COL (inch): 2.230; 51,920 psi

107 Sierra HPBT Ramshot X-Terminator 26.3 2,389 Remarks: start load; COL (inch): 2.260

107 Sierra HPBT Ramshot X-Terminator 29.2 2,649 Remarks: max load; COL (inch): 2.260; 51,000 psi

120 Sierra HPBT Ramshot X-Terminator 25.1 2,233 Remarks: start load; COL (inch): 2.260

120 Sierra HPBT Ramshot X-Terminator 27.9 2,466 Remarks: max load; COL (inch): 2.260; 51,970 psi
----------------------------------------------------------------------------------------------------------------------------------
----------------------------------------------------------------------------------------------------------------------------------

6.5 Grendel(R) (For AR-15 Style Weapons)
Barrel: 20" ■ Twist: 1-10" ■ Primer: WIN WSR ■ Bullet Diameter .264" (Maximum Chamber Pressure 52,000 PSI)

Powder (Accurate)---Bullet Wt.---Manuf.---Charge (Grs.) Start/Maximum/Velocity (FPS)---Pressure (PSI)---COL.
---------------------------------------------------------------------------------------------------------------------------------------
2230 85 SIE HP 27.4 2,656 30.8 2,873 51,700 2.150

2230 95 HDY V-MAX 25.5 2,535 28.3 2,713 51,800 2.190

2230 100 NOS B-TIP 25.3 2,411 28.1 2,636 51,600 2.230

2230 107 SIE HPBT 24.8 2,329 27.8 2,520 51,500 2.260

2230 120 SIE HPBT 23.6 2,224 26.3 2,395 51,900 2.260
-----------------------------------------------------------------------------------------------------------------------------------
-----------------------------------------------------------------------------------------------------------------------------------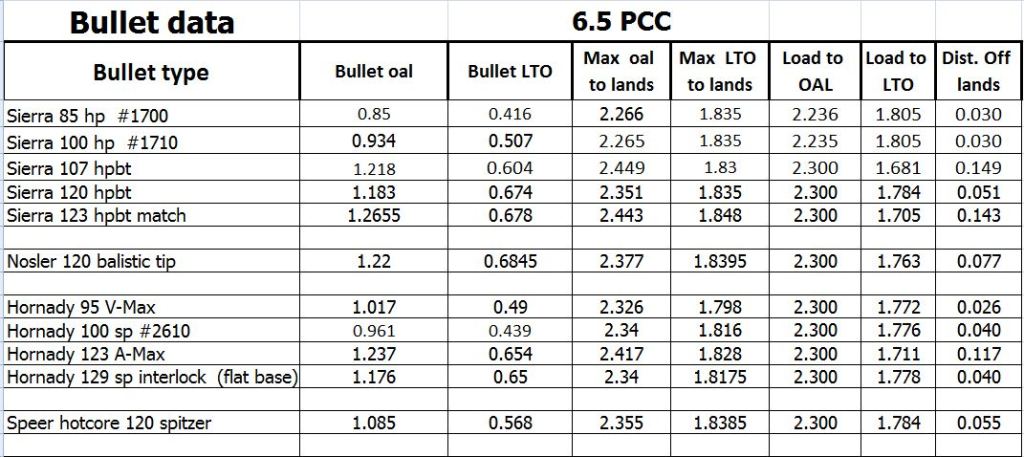 6.5mm Patriot Combat Cartridge Reamer Print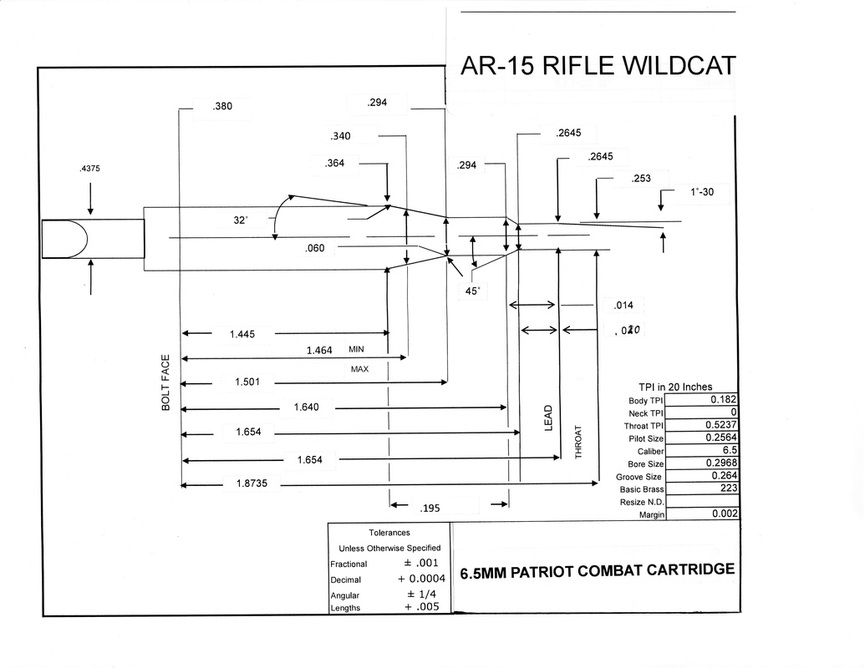 Pics/Cutaways of a typical barrel/chamber/throat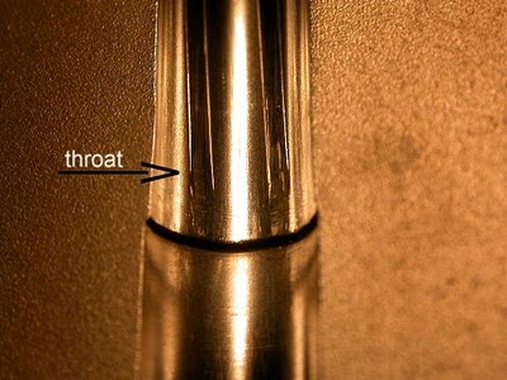 Here you will see a cutaway of a barrel
showing the chamber,throat, and rifling.
---
Adjustable Throating Reamer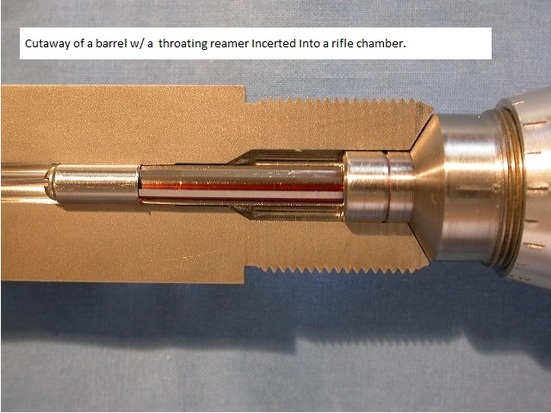 Typical cutaway of a rifle barrel with a
throating reamer incerted into the chamber.

Notice it has a adjustable micrometer stop
on the opposite side of the throating reamer.
---
Magnified Rifle Chamber Leade/Throat Area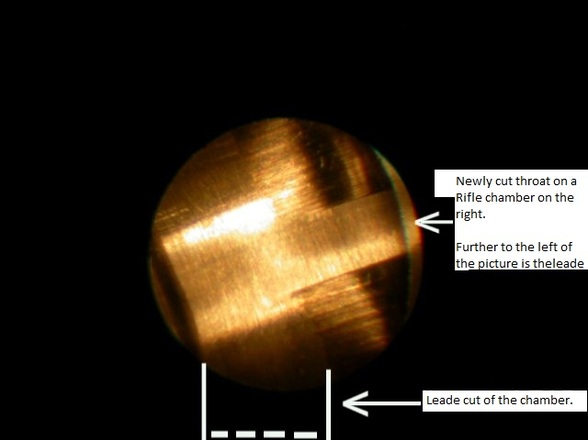 The picture to the top left shows the typical
Rifle Chamber are with the Leade and
Throat area that has been magnified
to show the detail.

The bottom left of the picture shows the detail
area of the Leade cut.
---
Correct Description of a Rifles Chamber Area
Via the Cutaway as seen below.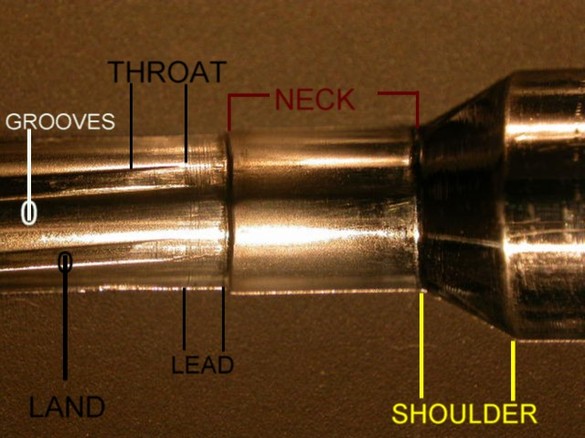 The picture to the left details the correct description
of a typical Rifle chamber. It describes from left to
right:

A) Rifling bore with the rifling groves.
B) The Throat.
C) The Leade.
D) The Shoulder.

The above described areas are critical to the rifles
accuracy, other than a correct cut and reamed bore
and chamber, as well as the barrels (R/C) hardness
and finish.
---
Barrel Break-In Proceedure


The following is a guide to "break-in" based on our experience. This is not a hard and fast rule, only a guide. Some barrel, chamber, bullet, primer, powder, pressure, velocity etc. combinations may require more cycles some less. It is a good idea to just observe what the barrel is telling you with its fouling pattern and the patches. But once it is broken in, there is no need to continue breaking it in.



Initially you should perform the shoot-one-shot-and-clean cycle for five shots. If fouling hasn't reduced, fire five more cycles and so on until fouling begins to drop off. At that point shoot three shots before cleaning and observe. If fouling is reduced, fire five shots before cleaning. Do not be alarmed if your seating depth gets longer during break in. This is typical of the "high" spots in the throat being knocked down during this procedure. It is not uncommon for throat length to grow .005"-.030" from a fresh unfired chamber during break in.



Stainless Chrome moly

5-10 one-shot cycles 5 - 25 - one-shot cycles

1 three-shot cycle 2 - three-shot cycles

1 five-shot cycle 1 - five-shot cycle

---------------------------------------------------------------------------------------------------------------------------------------------------------------------------------------Courtesy: Krieger Barrels


Professional Adjustable Throating Kit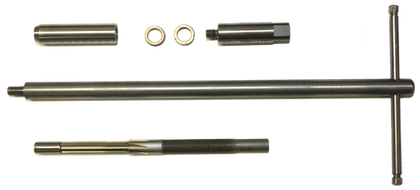 Pictured to the left is a:

Professional Adjustable Throating Kit.
It is a necessity for those that want the
most accuracy out of the the match quality
rifle they may be using for long range target
work or even long range hunting situations.

The kit cost $125 delivered.
---
Design Draft of the 6.8mm PCC Round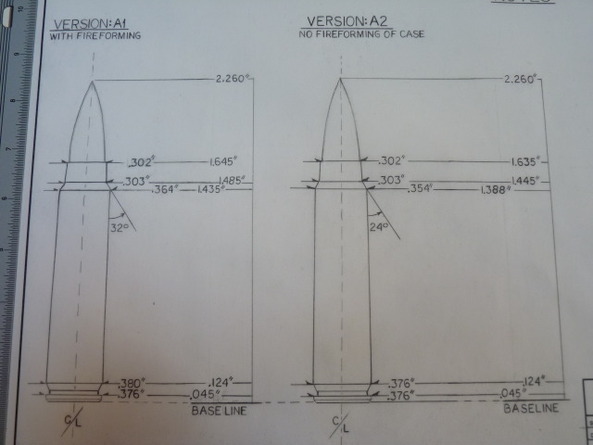 This is the original design daft of the
two different versions of the 6.8mm
PCC cartridge, one is a non fireformed
version and the other is a fireformed
version with higher case capacity.

Case capacities are similar to the sister
6.5mm PCC round. Fireformed capacity
is approximately 33.51 grains of water.
Non Fireformed case capacity approx-
imately 30-31 grains of water
depending case manufacturer.
---
A Computer Rendering of the 6.8mm PCC
Shown to the left is a computer generated
Image ot the the 6.8mm PCC rounds
stacked in a AR-15 magazine.

Notice the design limitations of the
AR-15 magazine, one of the biggest
Issues are the Internal ribbs of the
magazine forcing a redesign of the
cartridge for proper feeding etc.

Image courtesy of 6.8 Forum members.
---
6.5mm PCC Barrel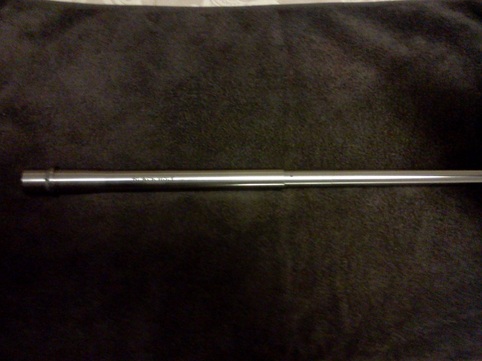 Here is a wonderfull 18" Standard
profile stainless steel, machine
finish (semi-satin), Poly 3 groove
rifling barrel, mid-length gas system,
target crown. just flawless.

It will be professionally polished in/
on the M4 feedramps, chamber, and
throat areas of the barrel. It will then
have the throat cut/reamed to the
customers desired load (COL). Then
it will go to it's new loving home.
---
6.5mm PCC Barrel w/ the Laser Engraving
To the left is a close up shot of
the new custom 6.5 PCC laser
engraving, 1:8 twist,Stainless Steel,
Poly 3 grove rifling .

Sorry about some of the quality
of the pictures, due to the poor
lighting etc.
---
M4 Barrel Extension on a 6.5mm PCC Barrel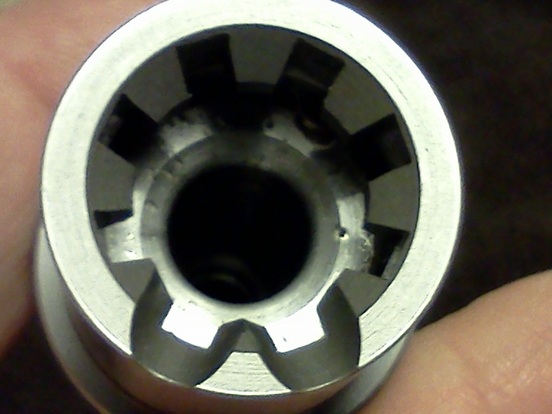 Here you can see a close-up of a
M4 barrel extension, the debris
you see near the chamber opening
is oil and machining residue.
---
Here is a Professional Polishing Job on the M4 Feedramps & Chamber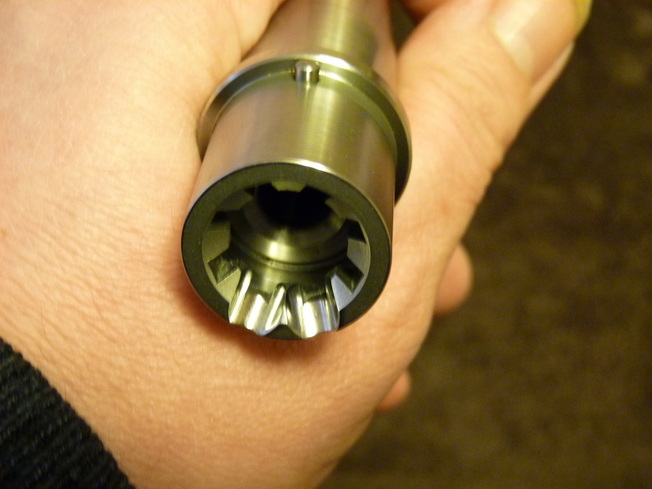 This professional quailty polishing
job was just completed on the M4
feedramp(s) extension & chamber
Interior (not shown due to the special macro lens that is requird etc.) The
chamber polishing also came-out absolutely wonderfull.
---
Gasport Opening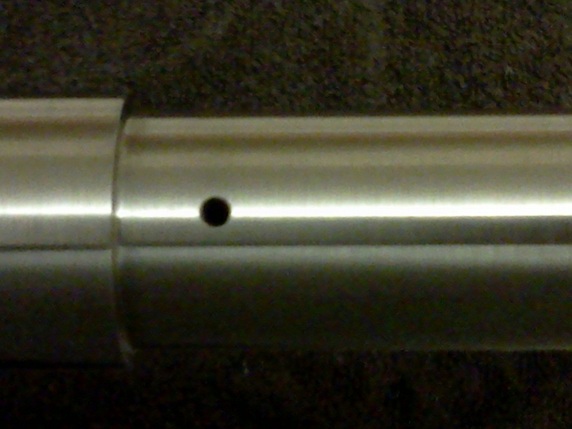 You can see the nicely drilled
gasport and relieved chamfered
circumference, it's tough to see
as the picture is slightly blurred.
It's a mid-length gas system.
---
.223 Remington/5.56mm NATO to 6.5mm PCC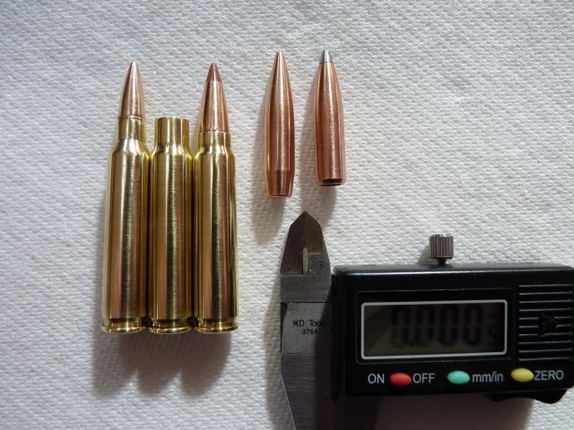 The .223 Remington/5.56mm NATO
on the left, a formed and necked-up
(empty) .223/5.56mm case in the
middle (converted to a 6.5mm PCC case)
and a 6.5mm PCC round at the end.


The two projectiles on the
far right in the pictureare
the Sierra 123 gr. Match King
and the Nosler 125 gr. Partition.
Those two pills are about the longest
pills for the PCC that still get good
performance (velocity & energy).
---
Very Low Drag (VLD) 6.5mm Projectiles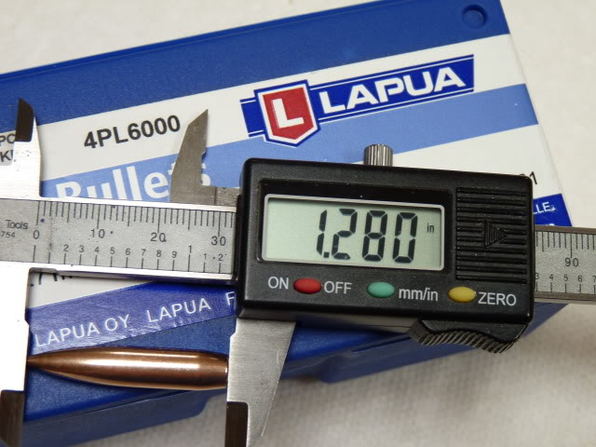 Pictured here is the Lapua
144 grain FMTBT projectile.

It is the longest 6.5mm pro-
jectile that is still practical in
the 6.5mm PCC cartridge. You
can still use longer and heavier
projectiles if you are looking
to use them for special purpose
uses like suppressor and subsonic
purposses etc.

Typical velocities with the Lapua
144 grain FMJBT projectile in the
6.5mm PCC case very from a low
of about 2,020 fps. to a high of
about 2,228 fps. These velocities
were gained from test barrels in
the 18" & 22" range, while the 16"
length will be a bit less in velocity.


---
Here is a short HD video clip of the 6.5mm PCC in action, testing for proper feeding and ejection.
AR-15 High Quality Billet Lowers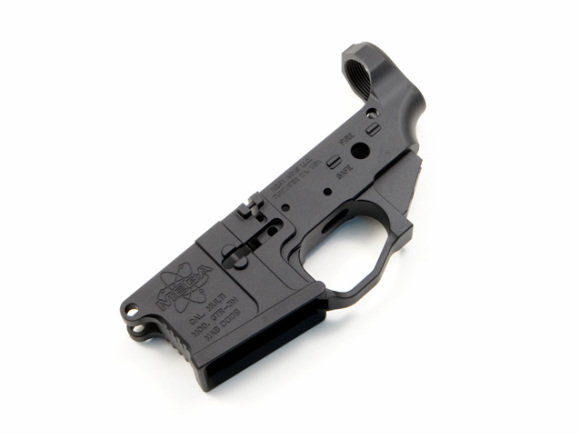 Pictured to the left is a billet 7075-T6 Aluminum AR-15 stripped lower (courtesy Mega Machine Shop Inc.) and is one
of the top five highest quality (In the author's humble opinion) AR-15 lower recievers available.

Many ask what is the difference between a forged and billet reciever ?

Well basically, billet lowers are manufactured from a solid block of extruded aluminum alloy. While forged recievers are made using a super heated aluminum alloy bars that are in a very malleable state and then is seated in a hammer forging press (with a couple of tons of pressure) and are then hammer forged Into to a pre-determined shape, and then is machined to final dimensions.

One destict advantage that billet lower
recievers tend to have is they tend to offer
heavy duty construction and offer more
features like adjustment/tension/
capture screws etc. for positive lock-up between
upper and lower half's etc. Billet
also can have Integrated trigger guards
machined as part of the reciever for added
strength etc., feature sometimes noat available w/ Mil-Spec forged lowers.




---
Billet Aluminum vs. Forged Aluminum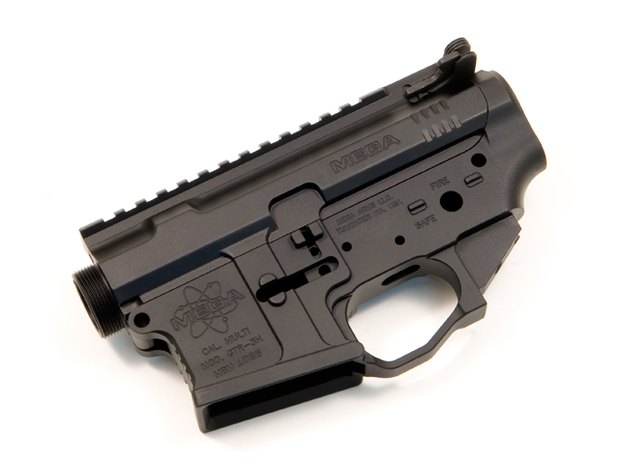 So the big question is, which is "better" ?

Well that depends on a couple of factors.

One of he biggest factors is price and budget, billet recievers are more costly vs. forged recievers (provided it's made of equal/same aluminum material/type like 7075- T6).

Billet generally gives you a slightly finer
finish, as it machines a little easier vs. forged.

As for tensile strength between the two types, there is generally no real difference if both are made of the same material/type.

So, as long as both the forged and billet recievers are of the same material and made to Mil-Spec. dimensions the differences are minimal.



6061 T-6 vs. 7075 T-6 Aluminum ?

When it comes to selecting between the two types I would definately select the 7075 T-6
aluminum vs. the 6061 T-6 aluminum. There are two primery reasons for this, One is the
tensile strength, and the other is corrosion resistance . 7075 T-6 aluminum has about a
70% higher tensile strength rating vs. the 6061 T-6 version.

Photo Courtesy of Mega Machine Inc.
---
DPMS/LR-308 (AR-10 length, .308 Win/7.62 X 51 mm) vs. AR-15 Pattern Lowers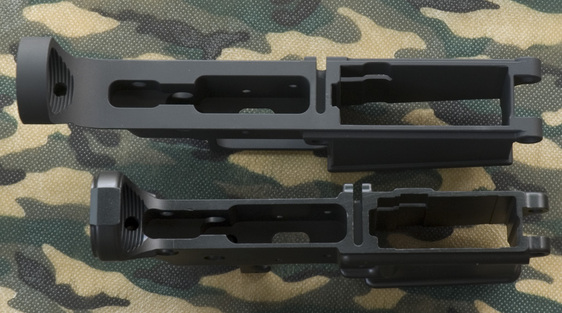 To the left is a photo showing the size difference
between the two primery AR platforms that are
becoming the standard of American firearms
technology and great pride throught the Industry
and American military for over 40 years.

The design is still going strong throughout the free world, In particular the AR-15 platform in
both civilian and military circles.

Just look at all the calibers that are available for
the AR-15 rifle platform...

At the top is a DPMS/LR-308 stripped lower (AR-10 length) & at the bottom is a standard AR-15 stripped lower reciever. (courtesy 308 forums).


---

Below are photo's of actual production prototypes made from our Blueprints/3D Digital modeling, they were made by a well known and high quality 07 FFL manufacturer. The quality and detail
of the lower receiver speaks for Itself.


You get more photo's and details with regards to the Full Commercial AR-308
Lower Receiver Prints/3D Modeling as well as our 80% Build Prints
for the AR-15, AR/LR-308, Armalite AR-10B Pattern prints
on the next page.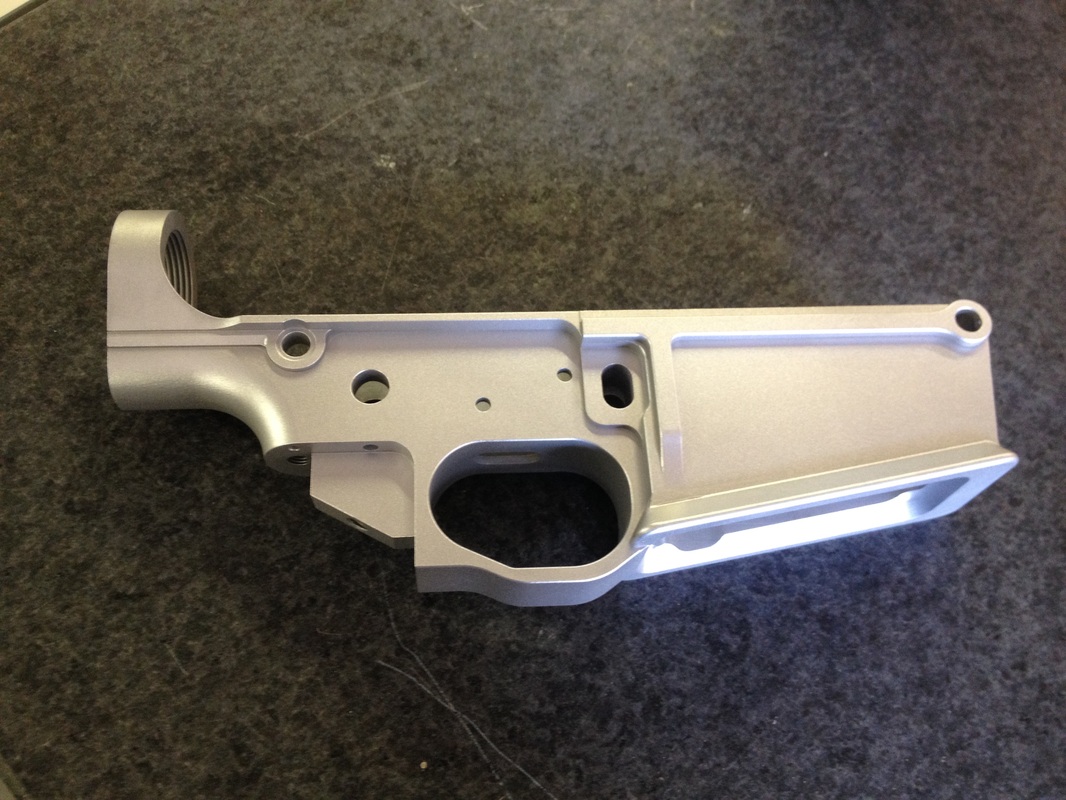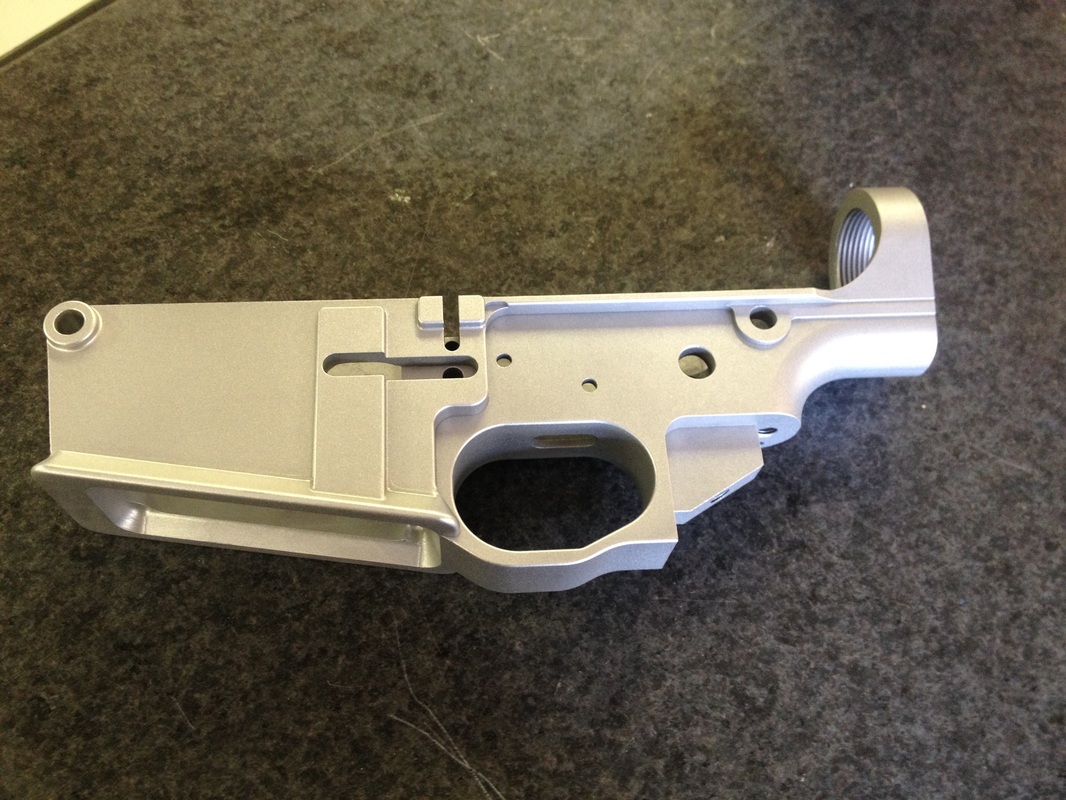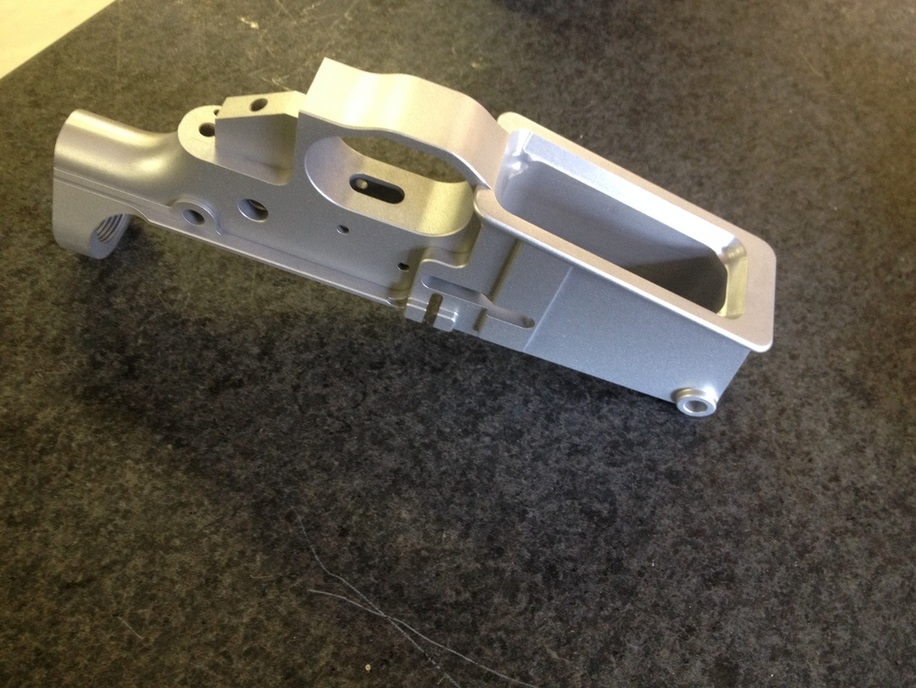 Above/Below: is a new production/prototype model AR-308 lower receiver made from our blueprints/digital & 3D models, It was produced by a well known high quality 07 FFL manufacturer and It is nothing short of beautiful ! Thank you David for a wonderful and Professional relationship as well as a Excellent Product !
Precision Laser Center & Edge Finder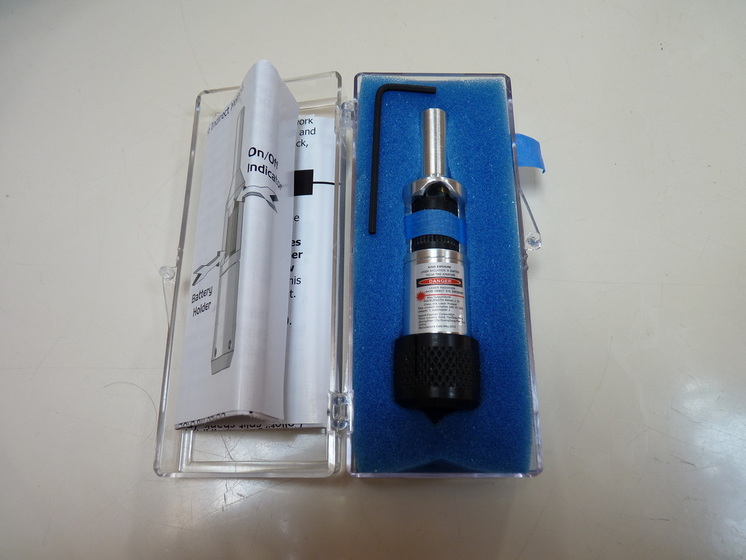 The picture on the left
is of a precision laser
center & edge finder.

This precision tool is a
must have if your going
to do drilling and milling
operations with correct
location layout markings
and such, It makes it much more easy for the
home builder to complete
his or her work etc.
---
M-Tech 3 Axis Digital Read Out Panel Kit for Milling Machines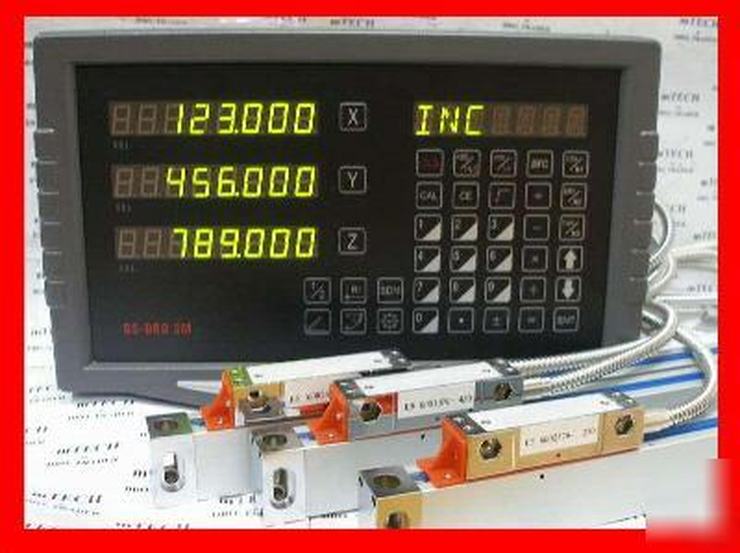 The pic to the left
is of a M-Tech 3 Axis
DRO kit.

While it is not 100%
neccessary to have this
3 Axis DRO panel kit w/
your milling machine, it
sure makes it easier to
finish your milling operations with this
kit Installed to your
machine.
---
Visual Comparison of Various AR Platform rounds.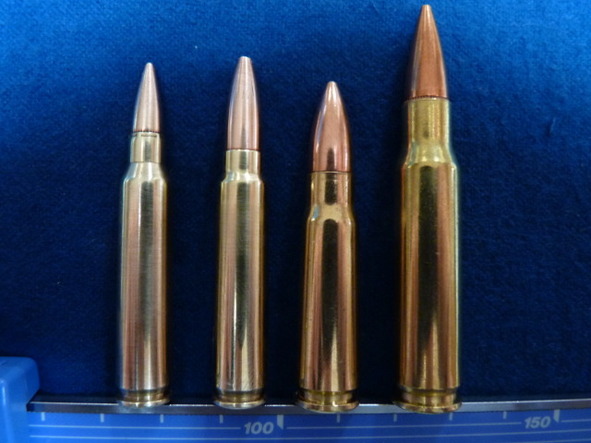 Here is a visual/photo of some popular
AR-15 & a AR-10/LR-308 rounds from
L to R:

.223 Rem/5.56mm NATO, 6.5mm PCC, 7.62x39mm, and the .308 Win/7.62x51mm NATO round (AR-10/LR308).

The 6.5mm PCC is able to surpass both the
.223 Rem/5.56mm NATO & the 7.62x39mm Russian round in Accuracy, Energy, BC, SD, Barrier Penetration and Long Range Trajectory.
---
The first Whitetail Deer taken with the 6.5mm PCC round.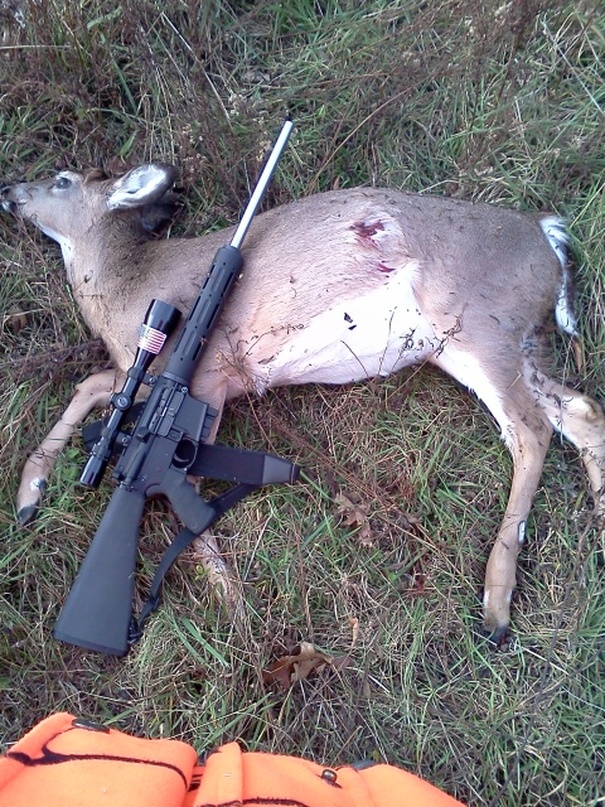 This Whitetail Buck (Spike) was
taken at 110 yards with the 6.5mm
PCC round with the 120 gr. Speer
HotCor Softpoint, the round went
completly through the animal broad-
side and and exited the animal as seen
in the picture. The exit hole was near
.700" with massive blood loss. The
undressed weight was a surprising
155 lbs.

The 6.5mm PCC AR-15 Rifle pictured is
a 22" standard profile barreled upper
with a Japanese made Weaver 3-9x50mm adjustable riflescope. It is shown with a 5
round magazine.
---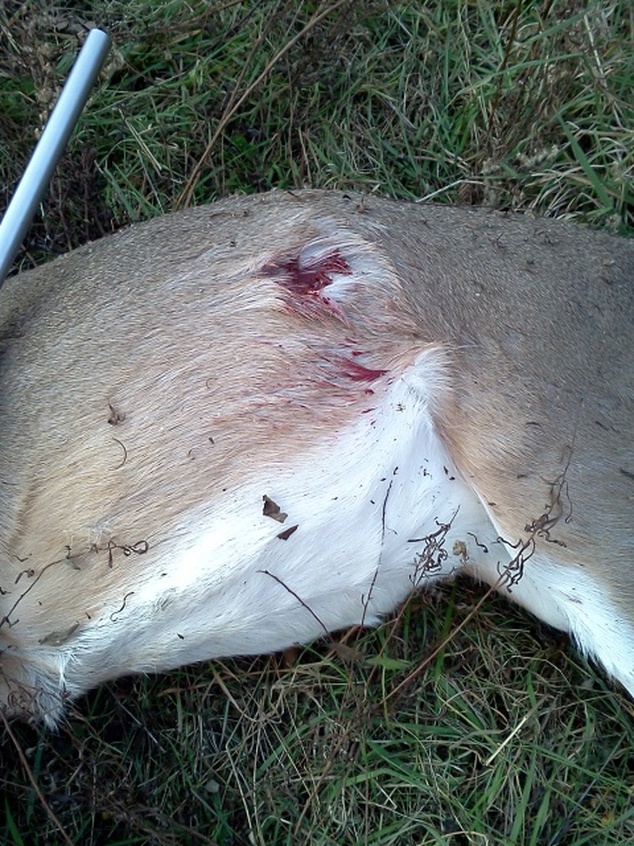 Whitetail Buck & Doe taken at 242 Yards & 218 Yards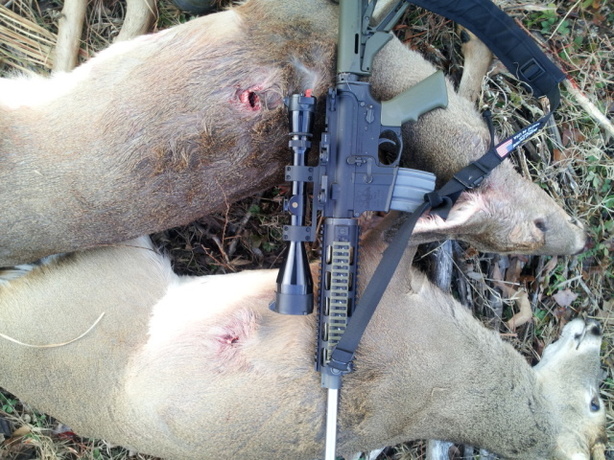 These two whitetails were taken by my
friend & field testing partner Paul with
his 18" Bbl. 6.5mm PCC rifle, and took
these wonderful animals at 242 &
218 yards in heavy woods. He used
the 100 gr. Nosler Partition loads.
Way to go Paul !


---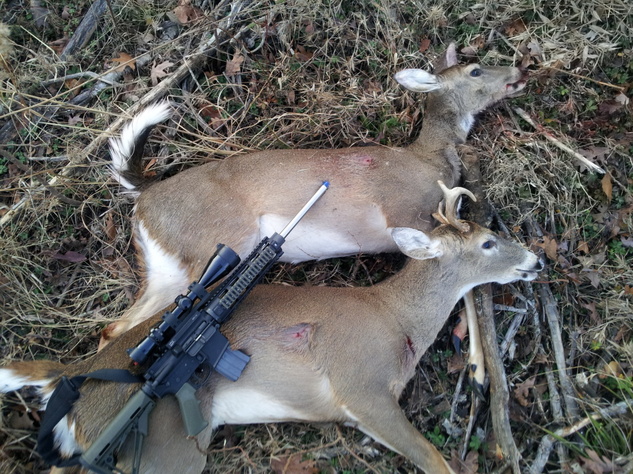 This page is still under construction, more photo's,Info.,charts & data to follow.

If you have any questions, or feel you would like to have more Info added to this
website please email us at the email address below.


Our email for Orders is : orders@illirianengineeringc.ipage.com

Our default email address is: IllirianEngineering@Yahoo.Com

Our PayPal email account for paypal payments is: illirianengineering@yahoo.com


Contact Info/New Phone Number: 603-852-3691